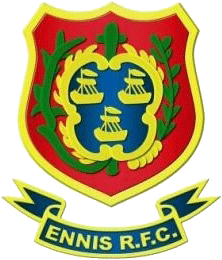 A super beginning to the U16 Munster Championship and the start of our campaign for the competitive season.
Ennis U16's instruction from their coaches was to play the game at a high tempo from start to finish. Fast hands with fast decision making is a serious double weapon to have in any rugby team. In pursuit of this strategy the opening score came quickly with fast hands from an Ennis line out, spread across the Ennis backs and Evan Wood powering over the whitewash.
Bruff tried consistently to run the ball out of their half of the pitch but were pinned back by the Ennis pack led by the towering Matthew McNamara and reliable Joe Boyle. New recruit from Oz, Austin Cleary, put his stamp on his claim for a place by punching through the Bruff defence to score Ennis's second try, duly converted by Calum Barrett.
In reply Bruff scored off a line out, producing a heavy attack from their pack, scoring on their third phase. Ennis were awarded a scrum and again fast hands from Callum Byrne released Evan Wood to carve through the Bruff defence and leave the half time score 5-17 in favour of Ennis.
The second half opened with a determined approach from Ennis not to let their lead reduce, however there was a spell where Bruff upped the ante and came at Ennis with a big effort. Their wide attacks were rebuffed by some excellent defending on the wing from Nicki Hardiman who ensured that the threat was closed off very successfully.
Ennis responded by draging Bruff back and forth across the pitch and stretching the home defence. It ended with a super pass from Callum Byrne to Nicki who went over in the corner for Ennis's fourth and final try. Bruff replied late in the half with a block down from an Ennis defensive kick resulting in their final try.
Substitutes Robbie Elliott and Seyi Olanrewaju showed that the bench presence can keep the pressure throughout the game and it was clear to see that the Bruff attack was forced into kicking from depth to Ennis's advantage. Overall a pretty impressive performance from the entire squad with training tactics clearly seen to be executed on the pitch. Training Tues 7pm at the club. Well done to all – let's keep it up – Nenagh next week !!!!
Scorers; Evan Wood (2t) Austin Cleary (1t) Nicki Hardiman (1t) Calum Barrett (1conv)