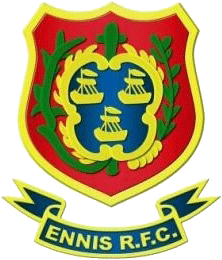 MJL Division 3
Mitchelstown 19 Ennis 18
Ennis suffered the narrowest of defeats in Mitchelstown on Sunday and will be left rueing a lost opportunity to gain ground at the top of the table.
Playing with the aid of a strong breeze, Ennis started well and dominated territory and possession from the off. We got an early reward after the home team infringed repeatedly and Ronan O'Halloran slotted a penalty over the posts for a 3-0 lead.
Ennis kept the tempo and pressure up and went further ahead through an Enda Galvin try. Having recovered our own botched lineout in the Mitchelstown 22, Galvin powered over the line from close range. What happened next would prove costly come the end of the game. Ronan O'Halloran's conversion attempt was waved wide by the referee despite both touch judges raising their flags. He stood by his decision and our lead was 8-0 after 15 minutes.
Undeterred, more strong defensive pressure resulted in an interception try for Eoin O'Ceallaigh. The conversion attempt was wide but Ennis were 13-0 ahead and in complete control of the game. We lost our way somewhat after that and repeated indiscipline gave the home side an opportunity to work their way into the game. They were duly rewarded with a try on the stroke of halftime to reduce the deficit to 13-5 at the break.
Almost immediately upon the resumption, the home side scored a well worked try under the posts to reduce the deficit to one point. With the breeze picking up we were under the pump but managed to hold out under heavy pressure for the next ten minutes and take the sting out of the home side's momentum. We struck back with an excellent try in the corner for Mark Taylor after good continuity work between backs and forwards. 18-12 with 15 minutes to go.
The endgame unfortunately was a tale of Ennis mistakes on our own set pieces giving Mitchelstown repeated opportunities to attack us. Having turned over the ball once too often, the home side eventually broke through out wide for a try. Our inexperience then allowed the ball carrier to get 20 metres infield to touch the ball down and make the conversion a straightforward attempt for the kicker. 19-18 with time almost up. We regathered the restart and started working our way upfield but a lack of patience eventually resulted in a dropped ball from a 50/50 pass and the game was lost.
Next up for Ennis is a home tie against the league leaders Tralee on Sunday.
15. Johnny Martin 14. Eoin O'Ceallaigh 13. Mark Taylor 12, Frank Coffey 11. Conor Collins 10. Sean Hayes 9. Ronan O'Halloran 8. Keelan Butler 7. Stephen Dolan 6. Shane O'Grady 5. John Queally 4. Enda Galvin 3.Adam Ryan 2. Evan Lewis 1. Jason Smith
Subs; Michael Lyons for Collins, Bryan Murphy for Coffey, Sean Conroy for Queally, Alan O'Shea for O'Grady