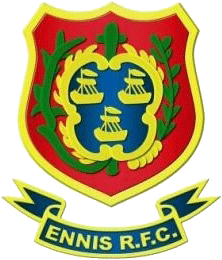 Ennis RFC 21–17 Bruff RFC
Ennis started well with strong ball carrying runs from Jack Scahill, Wale Shonibare and captain David Utuke putting Bruff on the back foot. From a 5m scrum Killian O'Connor powered over after a clever dummy run from scrum half John Connaughton created a gap in the defence. O'Connor converted and Ennis had a 7-0 lead.
Ennis continued to take the game to Bruff and were getting the better of the physical exchanges with the front row of Osgar O'Gorman, Seyi Olanrewaju and Noel McGrath prominent in the battle. A lack of patience in the red zone let Bruff off the hook on a number of occasions in this period and Bruff made Ennis pay after stealing an Ennis lineout to break out of their 22. Having worked their way up the pitch Bruff eventually crashed over from close range to tie up the game at 7 apiece after 20 minutes.
Following the re-start Bruff conceded a penalty and Killian O'Connor struck sweetly from 45 metres to restore the Ennis lead. The momentum now swung in Ennis' favour and good interplay between Sam Browne, Jarlath Collins and Evan Wood brought Ennis deep into the Bruff 22. Quick ruck ball allowed Connaughton to snipe in for a try and give Ennis a 15-7 lead at half time.
Bruff upped the ante at the start of the second half as their big pack started to rumble forward. Ennis defended manfully and a magnificent try saving tackle from Nicki Hardiman effectively stopped Bruff in their tracks and swung the momentum back to Ennis. With out half Adam Hogan varying the point of attack well Ennis were soon presented with a penalty in front of the posts after a foul on Evan Wood. O'Connor knocked it over for a lead of 18-7.
Bruff came again and after a series of picks and jams down the left hand side, scored another try bringing the scoreline to 18-12 with 5 minutes remaining. Another high tackle offence by Bruff allowed the reliable boot of O'Connor to push the score to 21-12 to Ennis.
Bruff responded again and took advantage of another penalty to score a try in the corner in the dying minutes of the game. With the score now at 21-17, the challenge to keep the ball alive was lost by Bruff when they failed to secure their own line out and the resulting possession by Ennis was kicked to touch to bring an end to this exciting and evenly contested final, with Ennis retaining the U16 trophy for a third year in a row.
Killian O'Connor – 1 try, 1 conv, 3 penalties (16)
John Connaughton 1 try (5)
Ennis RFC squad: Noel McGrath, Osgar O'Gorman, Seyi Olanrewaju, Matthew McNamara, Wale Shonibare, Jack Scahill, David Utuke [C], Killian O'Connor, John Connaughton, Adam Hogan, Evan Wood, Jarlath Collins, Sam Browne, Nicki Hardiman, Calum Barrett, Charity Omorodion, Callum Byrne, Sean Curtin, Joe Boyle, Cathal McMahon, Omer Erdem, Sam Costelloe, Mayomikun Omoniwa, Evan Smith, Liam Mahoney, Oisin Madigan, Arron Coughlan, Robbie Elliott.