Clinical Bandon Deny Ennis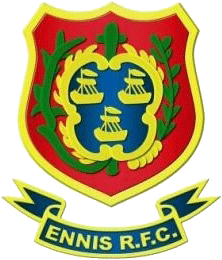 U16 Munster Cup
Ennis 10 Bandon 19
A clinical Bandon team made the most of their opportunities over the hour to deny Ennis back to back Munster u16 titles in Irish Independent Park on Sunday afternoon.
Ennis started very well and quickly established control over the ball and field position. Working through the phases, varying the point of attack well and strong ball carrying kept Bandon on the back foot for the first quarter of the half. Ennis eventually took the lead mid way through the half with Evan Wood dotting down in the corner after a lovely off load from John Connaughton.
Ennis continued to have the upper hand after this with Bandon showing occasional flashes from their rapid backline. However, we failed to add to the scoreline and Bandon gradually worked their way into the game. After a period of pressure in the Ennis 22, Bandon's number 6 went over for the first try of an eventual hat trick by him. The teams went in at half time level at 5-5.
Ennis upped the ante after the break and utterly dominated the game for the first 20 minutes of the half. The Ennis defensive strategy of rushing up in the 13 channel was frustrating Bandon's efforts to release their dangerous back three and they could not get out of their half to relieve the Ennis pressure.
With O'Connor, Hogan and Collins leading the charge Ennis came close on several occasions to retaking the lead. Time and again excellent scramble defence from Bandon kept their line intact and Ennis had nothing to show from their efforts.
Bandon changed their approach and some astute kicking by their scrum half eventually lifted the siege and brought them into the Ennis 22 for the first time in the half with 8 minutes to go. Ennis bungled the lineout, Bandon recovered the ball and the Bandon flanker went over for his second try of the game which was converted to give them a 12-5 lead.
A searing break by the Bandon centre on the restart was halted by Ennis on their 5m line. Bandon recycled and looked like they would break through out wide but a superb tackle from Calum Barrett stopped them in their tracks and Ennis recovered the ball. Unfortunately the clearing kick was charged down and the Bandon flanker won the chase to score his third of the day and seal the game for Bandon. Ennis rallied late to score a consolation try through Killian O'Connor but it was too little too late.
15 Nicki Hardiman 14 Evan Wood 13 Jarlath Collins 12 Adam Hogan 11 Samuel Browne 10 Callum Byrne 9 John Connaughton 8 Killian O'Connor 7 David Utuke (c) 6 Jack Scahill 5 Matthew McNamara 4 James Lyne 3 Seyi Olanrewaju 2 Charity Omorodion 1 Noel McGrath
Replacements: Calum Barrett, Osgar O'Gorman, Oluwamayomikun Omoniwa, Joe Boyle, Omar Erdim, Killian Fawl, Samuel Costelloe, Connor Cleland.