A Message From Ennis RFC 2021/22 President Dermot Hallahan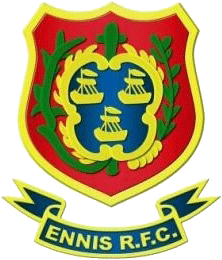 It is with great pride and no little nervousness that I greet you all as incoming President of Ennis RFC. I hope you've all enjoyed a good Summer break and are looking forward to the rugby season that gets underway very shortly.
As was everybody's experience last year and last season was a year like no other. We look forward with hope that the season ahead is a better experience for everyone involved in this club and sports in general. There's lots to be excited about;
We will be fielding a senior women's team for the first time in decades

Our mens team will compete in Munster Junior League Conference C this year

We have had continued success at representative youths level in both men's and women's squads

We have improved our gym facilities and hope to complete the refurbishment of our astro facilities in the very near future

Our 'split the pot' draw has put €300+ in a participants pocket weekly, I would encourage all to get involved in this vital fundraiser for Ennis RFC

We will be competing at age grades U14, U16 and U18 in men's and women's rugby

We will be offering rugby for all from age 7+
As I'm sure you appreciate, the provision of such services relies on a multitude of volunteers. I'd like to take this opportunity to sincerely thank those who volunteer those services so selflessly, you deserve the gratitude of both the club and the community you live in.
As a small acknowledgement of same I'm pleased to announce that we are providing a 10% discount on any purchases from the club shop to all who paid an Ennis rugby club membership last year.
As with any large sporting organisation we are in desperate need of more volunteers, no coaching or rugby experience is required. Indeed it is in the myriad other roles that we are challenged to ensure a regular service is provided. If you can find even a couple of hours to volunteer I'd be grateful were you to share your details with
secennisrfc@gmail.com
.
As is a prerequisite of these Covid compliant times any player who is chosen to represent Ennis must have their membership paid in full in order to be listed on a teamsheet. For all underage players that membership must include a passport style photo 'headshot'.
I can acknowledge and appreciate that September can be a financially challenging time for parents. In genuine cases of real financial hardship I would actively encourage you to engage with me at
presennisrfc@gmail.com
.
I'd again like to take this opportunity to both thank you for your time and support and encourage you to engage with the club in a meaningful way over the coming season.
Many thanks,
Dermot Hallahan
Ennis RFC 2021/22 President