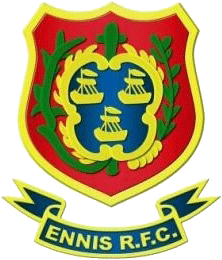 Munster Junior Cup, Rd 2
Scariff 15 Ennis 20
Ennis produced a late comeback to emerge victorious in this keenly contested tie in Scariff and progress to a 3rd round meeting away to Charleville on Sunday the 2nd of February.
The home side started the better and had the upper hand in the forward exchanges. They took an early 3-0 lead after Ennis conceded a penalty in front of the posts following a sustained period of pressure in the Ennis 22.
Ennis came more into the game after that score and dominated the remainder of the half. Moving the ball across the line well, Ennis continually stretched the home defence and were rewarded with their opening try in the 25th minute with Cian Guilfoyle touching down. Ennis extended their lead 5 minutes later with Guilfoyle doing good work down the blindside to put Ronan O'Halloran through to give Ennis a 10-3 lead at half time.
The second half was a scrappy affair with both sides struggling to get any continuity in their play. Scariff struck first with a linebreak through the middle of the field that led to an unconverted try to close the gap to 10-8. Ennis created several opportunities to extend their lead but the final pass eluded them and they were made to pay when Scariff took the lead with 8 minutes to go. Gaining field position deep in the Ennis 22 their close quarter carrying eventually broke through close to the posts and Ennis were left with a 5 point gap to close with time running out.
Ennis responded superbly from the restart and finally started to string phases together to put the Scariff defence under severe pressure. The pressure told eventually when David O'Callaghan was put into space to finish off an excellent team try and level up the game at 15 apiece with time almost up. With the thoughts of the crowd turning to extra time, Ennis claimed the restart and again worked through the phases to spring Cian Guilfoyle free to win the match with his second try of the day with the last play of the game.
15. Johnny Martin 14. Cian Guilfoyle 13. Niall O'Brien 12. Mark Taylor 11. Mike Lyons 10. Sean Hayes 9. Ronan O'Halloran 8. Keelan Butler 7. Harry Talty 6. Frank Coffey 5. Colin Fitzgerald 4. Stephen Dolan 3. Jason Smith 2. Werner Hefer 1. Luke Ryan
Subs; Elie Mundu for Smith, Ross O'Flaherty for Taylor, Alan O'Shea for Hefer, David O'Callaghan for Lyons, Adam Ryan for Ryan